StopitSolutions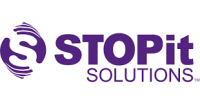 Overview
Start being proactive instead of reactive when it comes to dealing with incidents of inappropriate behavior. When students are comfortable sharing information with you, more students will start asking for and getting the help they need. Plus, you will have the ability to address issues early on, before they spiral out of control.


Everything about STOPit is designed to save you time and reduce your workload. STOPit streamlines your processes to improve the efficiency and effectiveness of investigations. STOPit is also a powerful deterrent. Students start thinking twice before making a bad decision. Fewer incidents translates into less work for you.
What Students Report
Bullying / Cyberbullying
Inappropriate student/teacher relationships
Sexual Assault
Hazing
Violence / Threats
Weapons Possession
Drug Dealing
Substance Abuse
Features
Products include:
STOPit App & Web (Mobile and Web Incident Reporting)
STOPit Admin (Incident Management System)
STOPit IMS (Incident Monitoring Service)
Professional Services (Presentations, Assemblies, & Workshops)
Reporting Hotline (Integrated Call-In Phone Service)
Districts
This list is compiled annually through our web surveys, internet research, and phone interviews with California school districts.
School Districts in California that use StopItSolutions*