Veeam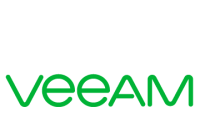 Overview
Veeam® Availability Suite™ enables the recovery of any IT service and related applications and data within seconds and minutes. Turn your enterprise into a Hyper-Available enterprise with Veeam Availability Suite for any app, any data and any cloud.


Features
High-Speed Recovery

Rapid recovery of what you want, the way you want it
Veeam Availability Suite helps you quickly recover the data you need to enable the lowest RTOs with tools like Instant VM Recovery®, Veeam ExplorerTM for Microsoft Exchange, Active Directory, SharePoint, and SQL Server, Veeam Explorer for Oracle — and more!


Data Loss Avoidance


Low RPOs and streamlined disaster recovery


With features like 2-in-1: backup and replicationTM, Built-in WAN acceleration, Backup from Storage Snapshots for the world's leading storage providers, Veeam Cloud Connect, Scale-out Backup RepositoryTM, EMC Data Domain Boost and HPE StoreOnce Catalyst integration, native tape support and more, you can avoid data loss and achieve the lowest RPOs.

Verifed Recoverability


Guaranteed recovery of every le, application or virtual server, every tim
With SureBackup® and SureReplica, you can be certain your les, applications and virtual servers can be reliably restored when needed, and ensure business resiliency through automated backup and disaster recovery (DR) testing.


Leveraged Data


Using backup data and storage snapshots to create an exact copy of your production environment.


Enjoy low-risk deployment with Virtual Lab, allowing you to test changes in a production-like environment before actually deploying them.


Complete Visibility


Proactive monitoring and alerting of issues before operational impact
Veeam Availability Suite provides the ability to manage virtual, physical and cloud- based workloads from a single console, as well as provide access to monitoring and alerting tools so that you can discover, and be alerted to issues in your IT environment before they have a signi cant impact.



Districts
This list is compiled annually through our web surveys, internet research, and phone interviews with California school districts.
School Districts in California that use veeam*