EduClimber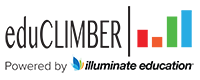 Overview
eduCLIMBER is a unique cloud-based data system created for educators by educators. More than a warehouse or RtI add-on, we've created a solution for you to continuously improve student outcomes. Making data analysis more efficient and accurate, our users are able to maximize their time to focus on what's important-teaching and helping students. Schools are quickly seeing the value of using eduCLIMBER to manage both academic and behavioral data in one system. This helps them identify and create a continuum of multiple supports for all students. Our application supports best practices with focus on creating sustainable and successful systems change through effective data-based decision making and identifying professional development needs.
Features
Easily import data from nearly any standardized norm-referenced, criterion-refrerenced or teachermade formative/summative assessment along with data from your student information system. eduCLIMBER was created to provide necessary information for data analysis and systems change. It has evolved into more; our users create SLOs, evaluate the effectiveness of interventions within their districts, monitor fidelity of interventions, analyze behavior incidents and student behavior plans as part of PBIS.


Support Options
Districts
This list is compiled annually through our web surveys, internet research, and phone interviews with California school districts.
School Districts in California that use educlimber*
Currently there is no data in the system