BoardDocs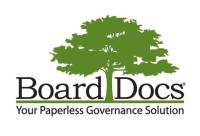 Overview
BoardDocs, a Diligent brand, is the intuitive, easy-to-use paperless meeting management software that enables public school boards to achieve best-in-class governance with a modern approach. BoardDocs has helped more than 3,500 organizations dramatically lower costs, increase transparency and reduce time-of-staff by up to 75 percent. Because their cloud-based solutions are so easy to use, your organization will operate more effectively from day one. BoardDocs' next-generation, paperless services allow organizations to significantly improve the way they create and manage board packets, access information and conduct meetings.


Features
BoardDocs is the easiest and most powerful software on the market for school boards. With best-in-class security, top-rated customer support and constant innovation, BoardDocs supports key modern governance practices that are critical to the ongoing success of school districts and communities.
Manage Agendas & Policies
Free 24/7 Customer Support
Designed for Phones & Tablets
Cloud-based, No Servers to Manage
Events Management
Board Member Pages & Packets
Multi-User Authoring & Approvals
Deep Library Management
Manage and control meetings and minutes separately for related boards and committees
Designate different publishers for different boards and committees
Create separate workflows and approval processes with BoardDocs Pro Plus
Districts
This list is compiled annually through our web surveys, internet research, and phone interviews with California school districts.
School Districts in California that use BoardDocs*