CALPADS SENR FILE LAYOUT CHANGES!!! - May 7th!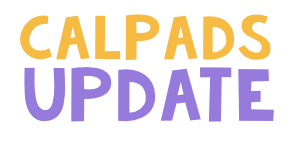 Dear LEA Representatives, CALPADS will have a notable change after the regularly scheduled maintenance on Tuesday, May 7th. The SSID Enrollment (SENR) file will have 6 new data elements to capture the postsecondary/transition status indicator and five work-based learning indicators. It is highly recommended that LEAs finish processing any existing SENR jobs before May 7. SSID Enrollment jobs that are currently "In Review" or "Ready for Review" should be posted prior to the May 7th release. That said, jobs in these states can still be posted after the release. Note however that the CALPADS Team prefers and strongly recommends that everyone start fresh with the new SENR file format on May 7.
Sign in to read full story
In order for you to continue reading the full contents of the post, you will need to login first
Comments
Comments are not available for users without an account. Please
login first
to view these comments.